Liquorature #079 – "The Stupidest Angel: A Heartwarming Tale Of Christmas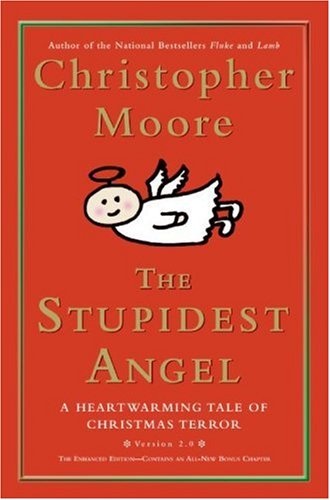 Terror" (Christopher Moore)
Date:  December 21st, 2015
Host:  Curt (but not really)
Whisky:  Lots and lots of 'em
You had me at 'zombies'.
In what we've dubbed a new Liquorature tradition, this was our second annual Christmas wrap-up.  We do things a bit different for this once-a-year shindig.  No hosts…no whisky purchases…none of the usual stuff.  Instead, we hold a heels party and a bit of a potluck noshing.  Everyone is responsible for bringing a bottle (or three or four) and some sort of food to contribute to the feast.  The book is shortlisted and agreed upon by majority.
In hunting through Christmas titles to follow last year's 'A Christmas Carol' selection, I chances upon this little sliver of a novel by Christopher Moore.  You may recall we read 'Lamb' by Moore a couple years back.  His irreverent sense of…well…everything actually was quite a refreshing little break from the more serious nature of so many of our picks.  It was like plunging into a cold pool or having cask strength come out yer nostrils.  A bit of a wake-up.  And a hell of a way to engage again with the fun side of reading.
Moore is fucked up dude.  No two ways about it.  In the vein of Vonnegut, Robbins and other intellectual, yet humour-driven, authors extraordinaire.  But it's this fucked-up-edness that makes him instantly appealing.  His stories are absurd to the point of almost becoming believable again.  Come on…we all know some pretty colorful characters in this life If we think about it.  Now just imagine a world entirely populated by those sorts.  Then add zombies and shit.  Awesome.
The b'ys loved this one.  Not an intellectual puzzler by any means; simply a great escape and an easy read for the holidays, a time in which we all struggle to make time for the little things in life (such as books).  These sorts of discussions are more along the lines of shared laughs and recollections of favorite parts than any sort of true literary dissection.  The consensus was, though, that while this was great, 'Biff' was better.
So…no malts to discuss.  Though we had about 25 on the table for sipping.  And the food?  A brilliant mishmash of delish.  In a way it's like everyone is the host, as we all get to put our personal stamp on the night.  In fact, I'm already looking forward to Christmas 2016.
And with that we close out another great year.
– Curt