Liquorature #077 – "Under Heaven" (Guy Gavriel Kay)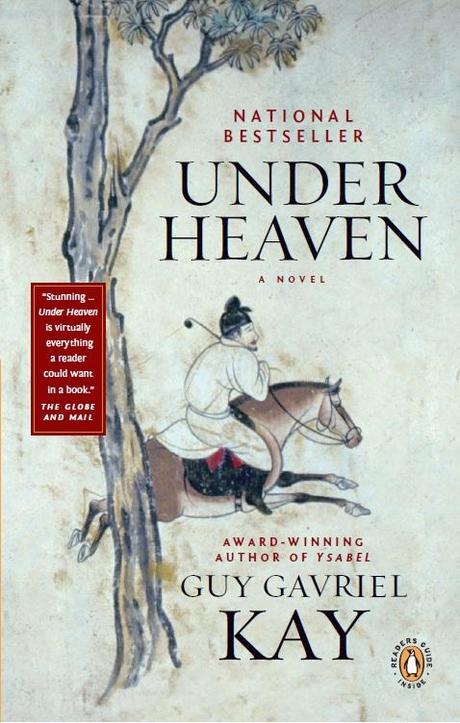 Date:  October 30, 2015
Host:  Curt
Whisky:  Nikka Taketsuru Pure Malt, Nikka From The Barrel, Kavalan Solist Bourbon, Chichibu Port Pipe
A few years back Lance gifted me a copy of 'The Fionavar Tapestry'.  The whys of this gift are a little elusive, even in reflection, as fantasy is/was far from my preferred genre of fiction.  Previous escapades being limited to mostly a dozen or so 'Dragonlance' books in my teens, earlier Liquorature selection 'Wizard's First Rule' and one or two others (and no…not even 'Lord Of The Rings' at that time).  I'm not sure if he thought he could win me over or if there was an even grander design.  Either way, I came away from it after turning the last weighty pages with a great appreciation of the work, but an even more profound appreciation for the man himself.  Kay that is, not Lance.  I already loved that old chap.
I'll not share details here, but several factors went into my choosing 'Under Heaven' for the Liquorature crew.  First off…a few scenes in 'Fionavar' simply blew me away.  Battle scenes in particular.  I wanted to revisit that magic.  A while later, and after many a word shared with GGK himself, another one of his works, 'Ysabel', knocked my socks off.  Kay's mix of fantasy (very lightly and deftly applied in the case of 'Under Heaven' and 'Ysabel') and history is extremely appealing.  And in the case of the latter, Kay's tossing in some brilliant weavings of Celtic mythology had me turning pages through the wee hours.  Finally…Mr. Kay is himself a malt lover.  The more he and I conversed on the subject, the more I came to see how sprawling his knowledge and interests really are.  Sports, literature, art, travel, politics, people, Canadiana, and much, much more.  In many instances, the points of intersection were key enough to make me aware how blessed we are to have someone like this share of their thoughts via the written – and timeless – word.
That becomes paramount when diving into a book like 'Under Heaven', where most of us readers will be largely unfamiliar with the time and place captured in its pages.  More importantly, the customs and beliefs of an empire (or dynasty?) as depicted herein, become a challenge for us in terms of relatability from our distant vantage.  It's how Kay handles this and empathetically leads us into this unfamiliar terrain that is a gift from his pen to our minds.  His insights and talent for evoking vivid imagery make Tang Dynasty era China ('Kitai', in this fictionalized telling) not only relatable, but uniquely appealing.  And did I mention it is set against a backdrop of actual Chinese history?  I'll say no more, lest I spoil the tale for anyone.
The lads in the club had a favorable, if mixed, reaction to it.  When I say 'mixed' I refer mostly to preferences for certain pieces and characters in the story.  The writing was unanimously lauded and appreciated.  The unfolding of the tale itself left some with conflicting opinions.  No one, however, contested the magnitude of the work, and a couple are, in fact, going to move on to Kay's follow-up work 'River Of Stars'.  Says something, aye?
In terms of playing into the theme and all that we do here in Liquorature, well…suffice it to say there really is no such thing as a Chinese whisky (locally anyway), and what I could source as a distilled Chinese beverage tasted like sweatsocks and ramen noodles.  Yep.  We had to try it, of course, and I simply have to say…not awesome.  Having said that, I branched out a bit for this one and went with a general 'Asian' theme.  Some Japanese and Taiwanese malts from a couple of consistently great distilleries.  The Kavalan was a favorite, but the Nikkas we sipped surprised a couple of the lads.  Seems the collective has a sweet spot for Asian malts.
Dinner was sweet Thai chili chicken over jasmine rice, bringing a mix of heat and sweet, followed by rich vanilla ice cream and lychee fruit.  All paired surprisingly well with big single malts.
There is more I could share here, but some has not fully played out yet (sorry, can't tell), and some is simply reserved for those that were there at the time.  All in all, a special night made moreso by some help I received from the author.  Thanks for that, Guy.  Appreciate it.
Until next…
Random notes:  Lychee cocktails … Chu Yeh Ching Chiew … Danny sat in … tried the DI cask … a wee gift … sweet Thai chili chicken … ice cream with lychee …"The French of Asia" … "He yin'd her yang" … "I'm just gonna roll a a twenty-sider"
– Curt