Liquorature #078 – "Gulliver's Travels" (Jonathan Swift)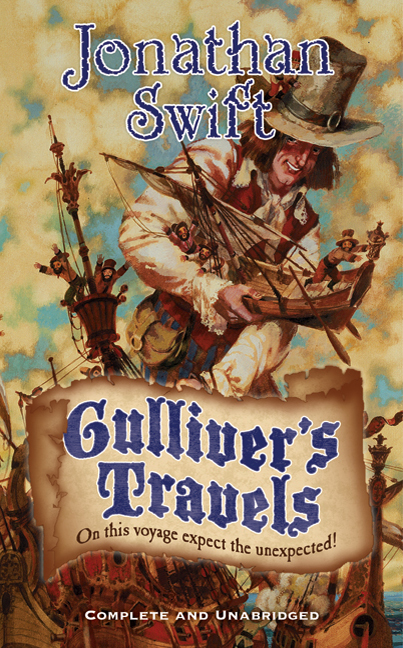 Date:  November 27th, 2015
Host:  Scott (aka Ginger Buddha)
Whisky:  A.D. Rattray Strathmill 22 y.o. Cask #10310, Edradour SFTC Chateauneuf du Pape 13 y.o., Signatory Bowmore 1985 25 y.o. Cask #32211, Compass Box Peat Monster Cask Strength
Every one of us wanted to kick Ginger in the balls for this pick when he sprung it on us so many months back.  Most of the guys out of sheer uninformed (but speculative) dread.  Me, at least, out of a grounded and informed dread, as it was one I'd read in lit classes years back.  Alas, selections like this are the very reason this club exists.  Not a lot of 'average joes' out there will ever casually pick up a copy of 'Gulliver's Travels' and thumb their way from page one through to the last written word.  It would be interesting to check suicide rates among those that have read it.  With the club, though, we are here to push one another.  Perhaps down a flight of stairs, in this case.
We started the evening's discussion, sipping a 22 year old Strathmill, I might add, with a consensus to tar and feather our host before we called it a night.  Without exception, everyone in the collective found this book a tiresome, tedious, over-fucked and ridiculously dated piece of satirical meandering.  What happened as we discussed, however, was one of the most interesting Liquorature developments to date.  I had done a load of research before coming into this evening's gathering, figuring that a bit of historical context might help the gang see this for what it was.  Or what it was meant to be anyway.
From 2016's far-removed vantage, much of what made 'Gulliver's Travels' a contentious and dangerous piece of work at the time is lost on us.  Let's not forget, 'Gulliver' was originally published anonymously.  Trying to suspend our preconceptions and placing ourselves in the political, religious, educational and socio-economic clime, however, takes this novel into entirely new realms.  I think by the time we were done our discussion on topical subject matter everyone's appreciation for Swift's cynical and rapier-sharp societal gutting was multiplied twofold.  Granted, they all still hated the experience of having to masochistically plow through it.  In short…"Ahhh…I get it now.  Still hate you for making me read it."
By way of peace offering, Scotty, our ginger-headed host, offered up the afore-mentioned single cask Strathmill, a unique wine-finished Edradour that was a throwback to Liquorature's younger years, a stunning 1985 Bowmore at the quarter century mark and finally a magnum of Compass Box's Peat Monster Cask Strength.  All right, Ginger…you're off the hook.  For now.
All in all, it turned out to be a great night of chatter and beverages.  I think we all learned a little bit about preconceptions and as clichéd as it may sound 'judging a book by it's cover'.
Thanks for a great night, Buddha.  Fun one.
Random notes:  A new addition (Eric joining us) … "literary waterboarding" … "Holy fuck!" (Bauer) … Brobdignagian dildo … "Didn't even get a chance to catch her at the back door" (Steve)
– Curt