Perfume: The Story Of A Murderer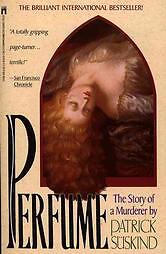 Perfume: The Story Of A Murderer – Patrick Suskind
Reading Perfume is an all-encompassing experience.  Senses are overwhelmed…suspension of disbelief is pushed to its outer extremities…and the reader is immersed in a world both long-past and never-was.  Against the conventions of most contemporary writing, which eschews the use of adjective upon adjective, Suskind paints an extremely vivid picture through his carefully plotted descriptions.  An analogy was drawn by one of the Liquorature members to the Eskimos and their endless words for 'snow'.  The author here has the same gift for creative description.  You'll find yourself mulling over his idea as to how the head of a newborn should smell, and holding your breath while reading about the cobbled streets and gutters of seventeeth century Paris.
The story itself meanders through the life of Jean Baptiste Grenouille, born without scent, yet with the greatest nose in history.  From Grenouille's birth through his quest to become the world's greatest perfumer and into everything that follows, the story is just odd enough to be beyond belief, but not quite into the bizarre. 
Like the best of the dark fairy tales, Perfume keeps all of the characters at arm's length, never asking you to care enough about any one of them to be affected as they…pass out of the story in their own ways.  C'mon…no one ever cheered for Hansel and Gretel.  A parable that is subjective enough to allow different conclusions (and we have), yet finite enough to allow closure.
Do NOT let the title of this book mislead you.  This is contemporary Hans Christian Anderson.  Albeit with an adult twist.