Liquorature Gathering #063 – "The Dark Tower" (Stephen King)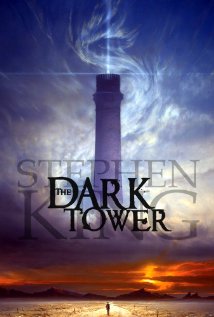 Date:  August 8th, 2014
Host:  Curt / Barry
Whisky:  BenRiach 1999 Cask #40043, SMWS 1.72 "Sophisticated, Delicate & Feminine" 19 y.o. (Glenfarclas), SMWS 77.28 "Tropical Nights" 25 y.o. (Glen Ord), Convalmore 28 y.o., Tullibardine 1964 42 y.o., Kavalan Peated Cask #02949 Distillery Exclusive
Some stories are just too big for Liquorature.  'The Dark Tower' was one.  No book in the series, excepting possibly the first, was what could be (or should be) considered a standalone volume.  And, of course, asking the gang to read seven (plus) volumes, in addition to apocrypha and other works was simply not feasible or realistic.  A few years back I floated the idea of doing 'The dark Tower' as an offline opt-in Liquorature event for any who were willing to invest some extracurricular time to the multi-thousand page word count.  It never really gelled as an idea, though there were rumblings of interest.  We let it lie.
As you may well be aware by now, Liquorature fell into a period of slumber for a brief while; a cocoon-stage which we call The Dark Ages.  It was during this time that Maltmonster approached me, having started following the beams to the tower himself.  "This is a big story," he said.  "We need to discuss".  I'd read through the series a couple of times, and a few of the books several more times.  I was more than willing to crash read through all again to catch up.  MM suggested offering the former Liquorature members an opportunity to tag along on this epic journey, and make something of the night.  A meeting at the Bridlewood nexus, if you will (ahem…my house).  Sure enough, many were interested.  And so it came to happen.
At this time, understand, the club didn't exist.  It had been nearly half a year since I Old-Yeller'd it in the back 40.  This monumental 'Dark Tower' event was a one-off.  A singular gathering with a central focal point.  I guess it had as a template prior Liqurature events to use as a Springboard, but event the simple fact that this was primarily Maltmonster's event should be indicative enough of the extracurricular nature of this one.  Maltmonster was never a true Liquorature member.  As it came to be, he and I joint hosted this one.  My place, my food choices, etc…his malt selections, etc.
This was an undertaking, event and sprawling story of epic proportions.  Infinite proportions, even.  While most conceded 10/10 for scope, imagination and characters there were some criticisms for an occasionally meandering plot, some anachronistic placements of pop culture and an authorial interjection of the most intrusive sort imaginable (if you've read it you'll understand).  But the greatest indignation was reserved for the ending.  Some were outright incensed; a couple reluctantly conceded its logic; and yours truly said it was perfect, beautiful and absolutely gutting.  I remember reading it for the first time and feeling like I'd been kicked in the stomach.  Remember, I'd been following these characters for probably 15 years by this point.  And even the most macho among us admitted shedding a tear and/or getting emotionally wracked at a couple of points throughout this journey.
The discussion was long.  It had to be.  We did this one justice, I'm proud to say.
Of course, it didn't hurt that we were lubricating our tongues and minds with a stunning array of single malts.  Every bottle on the table had a reason behind its selection.  I won't spill here (some things stay with Liquorature), but let's just say they were as intrinsically linked to the story as the mythical numbers in 'Lost'.  An SMWS Glen Ord and a stunning 28 y.o. Convalmore were unquestionably the highlights for me.  Both sit high in my all-time rankings now.
Taking further cues from the Ka-tet's journey, I made my own version of 'gunslinger burritos'.  Grilled, salted meat, wrapped in greens (with more goodies wrapped inside of course).  Quite amazing, if I do say so myself.  We've since made these a few times 'round my homestead.  Not bad for a concocted recipe.  Note: no bumblers were harmed in the making of this meal.
Finally…it was announced that Liquorature would be born again on the heels of this event, with this night leading the charge as the first occasion of our second run.  The faces may be different in some cases, but most of the workings would remain as they were.  We made something beautiful years back (before the world had moved on), now it was simply time to strengthen the beams.
I can't lie…it felt good to be back in the saddle.  And hopefully this time we can keep it on the straight and narrow.
Until next…long days and pleasant nights.
– Curt