Liquorature Gathering #059 – "Slaughterhouse-Five" (Kurt Vonnegut)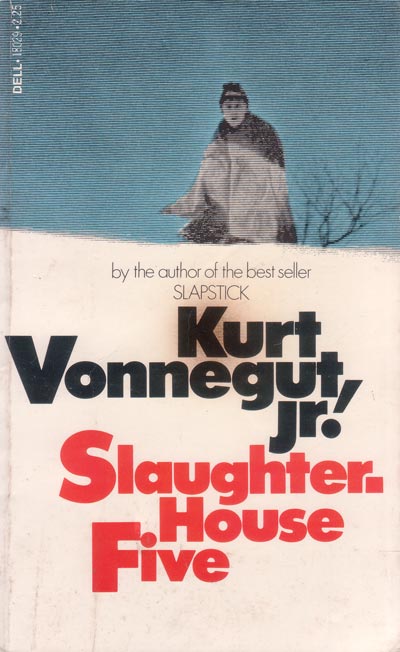 Date:  December, 2013
Host:  Scott (aka Ginger Buddha)
Whisky:  Pig's Nose, Bulleit Bourbon, Nikka Miyagikyo 15 y.o.
All this happened, more or less.
Man, it took is a long time to get 'round to Vonnegut.  I always thought it would be me to pick him at some point, but our Ginger Buddha beat me to it.  I'd have chosen something different (most likely 'Cat's Cradle'), but applying the pizza philosophy, any Vonnegut is good Vonnegut.
Like most of the author's work, there is a jumbled and disjointed mishmash of surreality, science fiction, metaphysical, metaphorical, absurdist and appreciably literate meandering.  Though this may sound like a convoluted way of saying 'what the fuck?', the reality is that Vonnegut is hard to pigeonhole.  He's equally difficult to form opinions on or analyze with any true sense of authority.  I think that's why this choice worked extremely well for us.  In fact, I still debate doing 'Cat's Cradle' at some point, simply to be able to revisit this mad genius.
The guys were non-committal in terms of expressing disdain or appreciation.  I think there was an acknowledgement of something remarkable, but a lack of truly getting on board with the delivery.  Fair enough.  I can see how Vonnegut is an acquired taste (or an unacquired taste, as the case may be).
Scott likes to play to themes with his whisky selections, often tying his choices back to the book in some manner or other, however I'll be pickled if I can remember what (if any) ties there were between the drams listed above and this World War II era tale.  Either way…enjoyed.  In particular, the Miyagikyo 15 year old.  We're discovering that a few of us have a rather keen appreciation for the art of Asian distillation.
So it goes…
– Curt