Liquorature #053 – "The Year Of The Flood" (Margaret Atwood)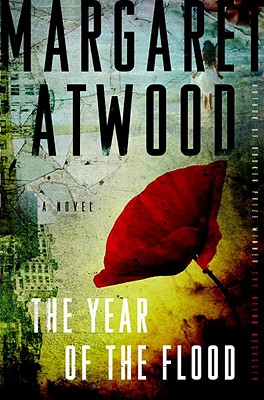 Date:  June, 2013
Host:  Chris
Whisky:  Glenfarclas 105, Glen Scotia 16, Highland Park 15
Rum:  El Dorado 12 y.o.
An odd choice, this.  Book two in the 'Oryx And Crake' trilogy by Canadian treasure Margaret Atwood.  Not that it's odd to choose Atwood – or a book on this subject matter, for that matter – but to pick this volume instead of first.  It didn't matter to me, however, as I'd read O&C, but I wonder if the others missed out a little for not having the same informed starting point.
What it boils down to, in any event, is that all Liquorature picks have to be standalone volumes.  We set that rule in place early on, in order to ensure no one made a selection that would then require members to go back and do a bunch of pre-reading (or dive into subsequent volumes) in order to get the big picture.  Incidental here, as 'The Year Of The Flood' does have a solid enough base to stand on its own.  Barely.
While a few members may have been scratching their hands a bit trying to wrap their thoughts around this one, the overall reception was good.  Essentially this is a dystopian science fiction novel.  You should know by now if you've been reading these brief dispatches that the majority of the gang 'round here digs these genres.  There isn't typically a lot of headbutting over these sorts of picks.  Not like when we discuss anything related to, say, the middle east, colonialism, economics or the current political climate.
We gathered in Chris's back yard on a brilliant June eve for this meeting.  A bottle of Glenfarclas 105 was well beaten up on…a Glen Scotia 16 was actively reviled…and the now obsolete Highland Park 15 was fun to revisit.  One or two did the gentlemanly thing and sampled the rum before switching back to drinks that wee actually palatable.  (I kid, I kid!)
Just writing this makes me reflect back.  Thinking I should reread these two tales and pick up 'Maddaddam', book three in the trilogy.  Hmmm.
– Curt