Liquorature Gathering #052 – "Do Androids Dream Of Electric Sheep" (Philip K. Dick)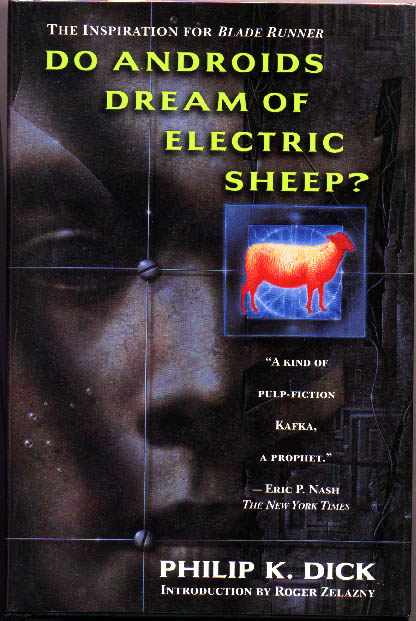 Date:  May, 2013
Host:  Scott
Whisky:  Glenmorangie Ealanta, Sheep Dip 1999 Oloroso Amaroso, Wild Turkey Rare Breed
Rum:  ?
You may not know this one by title, but you'd probably recognize the story.  Philip K. Dick's sci-fi jottings here would later become the seed from which Ridley Scott's 'Blade Runner' would grow.  Scott took the premise and turned ideas into striking dystopian visuals.  The latter was great.  The former, beyond great.  Do yourself a favour and read this book.
As with nearly all of the Liquorature science fiction selections that have been tabled before this discerning group, 'Androids' was met with very warm reception.  We are nothing if not a group with a profound appreciation for ideas and exploding boundaries.  Sci-fi is built on that very foundation, hence a match made in heaven.  Dick is not my favorite SF author, but he is canonical and this was a great gateway into his world(s).  The fact that I even have a frame of reference for science fiction is a true testament to what this club does.  Prior to Liquorature this was a genre I largely avoided.  Now I seek out the greats within.
Scott's place is a great venue for these more in depth discussions.  His living room is tight and cozy; a small room ideal for those 'lean forward and debate' sort of conversations.  This adds immensely to the experience, I find.  Maybe that's just me.  Either way…very memorable.  Especially in the dimly lit haze with 'Blade Runner' playing on screen behind us.
Alright.  Let's talk drams to wrap this thing up.  Glenmorangie Ealanta.  Later names Jim Murray's World Whisky Of The Year.  Ummmm…off your fucking rocker much, mate?  This is nothing more than an ok malt, overburdened with too many spices and synthetic sweet notes from an overpowering bourbon influence.  Moving on.  Wild Turkey Rare Breed.  Wow.  What a treat.  This was one of the most surprising whiskies of the year for me.  I was instantly enamoured.  Who'da thought Wild Turkey could make something so amazing?  Not this guy.  Definitely the standout of the night.
Was there rum?  There was probably rum.  Bah.  Who cares?
Ramdoms:  "EMP, bitch!"…"the Alan Alda of Ginger Buddhas"…
– Curt